Bob Wilson - Drums & Primary Writer
Born in Texas and raised in Phoenix, Arizona, Bob attended Arizona State University as a music major. He later joined the Navy and met bassist, Ken Wild while stationed at Pearl Harbor. After Bob returned to Phoenix, Ken called and invited him back to Hawaii to play with "these really good horn players from Indiana University." Bob's meeting and eventual marriage to Pauline in 1975 was a by-product of the larger union of the band. Bob was always the most prolific composer in the band and he wrote most of the Seawind hits, including Seawind's signature song, Follow Your Road.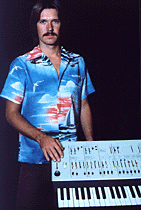 Larry Williams - Keyboards, Sax & Flutes
Larry's sax-playing father started him on clarinet when he was eight and by the time he was 13, music was what he most enjoyed. Three college scholarships (music/teaching/academic) took him to New Mexico State but he transferred to Indiana University where he met horn players, Jerry Hey and Kim Hutchcroft. Larry got within 6 hours of a degree and quit. His playing, writing and arranging talents have always been one of Seawind's many strong points and as a member of the Seawind Horns, he has been heard on countless platinum recordings.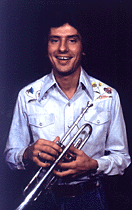 Jerry Hey - Trumpet & Flugelhorn
Jerry, with his perfect pitch, wrote many of Seawind's horn charts and has done the same for a who's who of world-reknown recording artists. He was raised in Dixon, Illinois and both his father and brother played trombone. The outstanding reputation of Indiana University's music program attracted him there, but after attending for two years, he wanted to put what he had learned to work. While at Indiana, Jerry met Larry Williams and Kim Hutchcroft, who all three, would later become the legendary Seawind Horns. Jerry's playing, writing, arranging and producing talents are now recognized world wide.
Kim Hutchcroft - Saxophones & Flutes
Kim comes from the tiny farm community of Middletown, Iowa (population 150), but he's had an exemplary musical education, first at the University of Iowa and then, because he was more interested in performance than teaching, at the University of Indiana. That's where he met Jerry Hey and Larry Williams and the three soon found themselves playing shows in beautiful Hawaii and destined to become the Seawind Horns. From baritone, tenor, alto and soprano saxes to all flutes and wooden recorders, Kim's versatility as a reed man was always a major asset to Seawind's unique sound and unbelievable horn section.
Bud Nuanez - Guitar
Since his childhood in Phoenix, Bud was always dedicated to good music. He began playing guitar in kindergarten and eventually attended the Berkelee School of Music in Boston. When the band was known as "Ox", they accepted a "Top-40" club gig in Alaska and soon decided that they needed to add a guitarist. Bud was asked to fly in from Phoenix and join them, which he did. As the last addition to the band, Bud rounded off what would become the musical nucleus of Seawind and the final creative element needed to form their classic sound.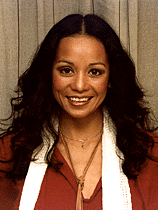 Pauline Wilson -Vocals
Born in the small country town of Hakalau, just outside of Hilo on Hawaii's Big Island, Pauline comes from a musical family. Her dad a bass player and her mom a singer, Pauline was always exposed to music and began singing at a young age. She attended college briefly in the state of Washington but returned home to Hawaii and started singing with a local Hawaiian group in a hotel lounge. While visiting the Big Island from Honolulu, Larry Williams and Bob Wilson happened to stop by the lounge where Pauline was singing. Needlees to say, they were knocked out by her pristine voice and asked her to move to Honolulu and join the band. Pauline soon became the vocal and focal point of the band.
Ken Wild - Electric & Acoustic Bass
As one of two sons in a military family, Ken was born abroad but grew up in Honolulu in a household that was filled with classical music. His older brother, who is a piano player and a writer about music, turned Ken on to Miles Davis and John Coltrane and by age 16, Ken was playing professionally and heavily attracted to and influenced by jazz. Ken's prolific, melodic style on acoustic bass and both electric and fretless electric basses, became a huge part of Seawind's identifying sound and "bullet-proof" rhythm section!